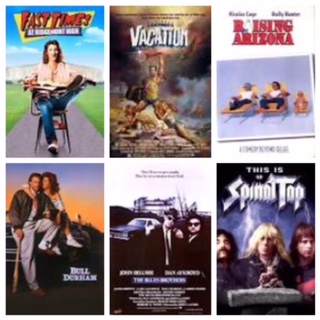 PUBLISHED:
November 17, 2020
MOVIES REVIEWED:
Fast Times at Ridgemont High - National Lampoon's Vacation - Raising Arizona - Bull Durham - Blues Brothers, The - This is Spinal Tap
GUEST HOST:
Larry Parsons
Rank N Review host, Larry Parsons, returns to discuss six comedies from the 1980's. Since this is the twentieth episode, half of the movies we review have to leave my movie shelf. Enjoy the show where both Larry and I spout some controversial opinions about these classic 80's comedies. At the end, there is an homage to the early episodes of Rank N Review with the Jerry awards.
Continue to tell the movie fans in your life about The Shelf Shedding Movie Show, as well as Rank N Review. Please continue to be safe and be kind to one another!
THIS PODCAST CONTAINS SPOILERS FOR THE MOVIES BEING REVIEWED AS WELL AS BAD LANGUAGE. YOU HAVE BEEN WARNED!
Play Now!