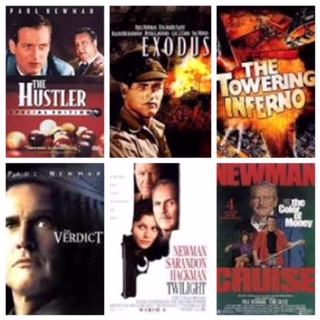 PUBLISHED:
December 1, 2020
MOVIES REVIEWED:
Hustler, The - Exodus - Towering Inferno, The - Verdict, The - Twilight (1998) - Color of Money, The
GUEST HOST:
Kurt Fitzpatrick
Returning guest, Kurt Fitzpatrick (of the podcast A Lifetime of Hallmark and kurtfitzpatrick.com) and I discuss six movies that star the late great Paul Newman. He is an actor that I admire greatly and miss a lot, and that hopefully shows as we review these films that span his career in the 60s, 70s, 80s, and 90s. We bookend this show with the two movies where he played "Fast" Eddie Felson - one of the great characters that Paul Newman created. Enjoy this episode in my Acting Master Class series of shows.
Thank you again for supporting this podcast. Continue to share it with the movie fans in your life. Stay safe and healthy, and be kind to one another!
THIS PODCAST CONTAINS SPOILERS FOR THE MOVIES BEING REVIEWED AS WELL AS BAD LANGUAGE. YOU HAVE BEEN WARNED!
Play Now!