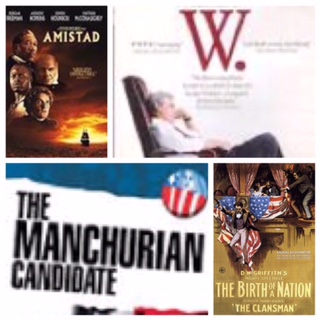 PUBLISHED:
November 2, 2020
MOVIES REVIEWED:
Amistad - W. - Manchurian Candidate, The (1962) - Birth of a Nation, The (1915)
GUEST HOST:
Tom Ratzlaff
Warning: This episode is political. If you do not enjoy political discussion, you may want to listen to a different episode. Regular guest, Tom Ratzlaff, and I discuss four movies about American presidents and political issues that surround the current presidency of Donald Trump on the eve of a crucial election in the United States. Make no bones about it, I am coming from the bias that Donald Trump needs to be defeated no matter what. We will look at the importance of the Supreme Court in Steven Spielberg's Amistad, the dangers of when the US is unilateral on International issues through Oliver Stone's W., what happens when a hostile foreign power infilitrates the government in The Manchurian Candidate, and finally the history behind the racist ideologies of so many Trump supporters in D.W. Griffiths' controversial The Birth of a Nation.
Please continue to be safe and be kind to each other. Tell the movie fans in your life about this podcast. And I hope everyone, no matter what country you live in, exercises their right to vote.
THIS PODCAST CONTAINS SPOILERS FOR THE MOVIES BEING REVIEWED AS WELL AS BAD LANGUAGE. YOU HAVE BEEN WARNED!
Play Now!