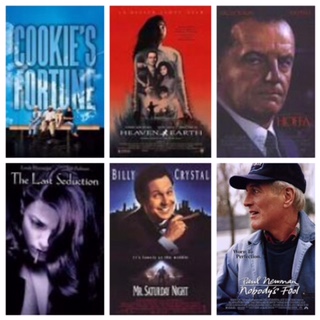 PUBLISHED:
December 15, 2020
MOVIES REVIEWED:
Cookie's Fortune - Heaven and Earth (1993) - Hoffa - The Last Seduction - Mr. Saturday Night - Nobody's Fool (1994)
GUEST HOST:
Hope Bell
Returning guest Hope Bell and I discuss six underrated (in my opinion, and thankfully in Hope's too) movies from the 1990s. These are all movies that we recommend, so that made losing one of them very difficult.
Thank you again for supporting The Shelf Sheddiing Movie Show. Please keep telling the movie fans in your life about the show. Stay safe and be kind to each other!
THIS PODCAST CONTAINS SPOILERS FOR THE MOVIES BEING REVIEWED AS WELL AS BAD LANGUAGE. YOU HAVE BEEN WARNED!
Play Now!